02JAP
Level 2 Japanese
Course Description
Teacher in Charge: Mr G. White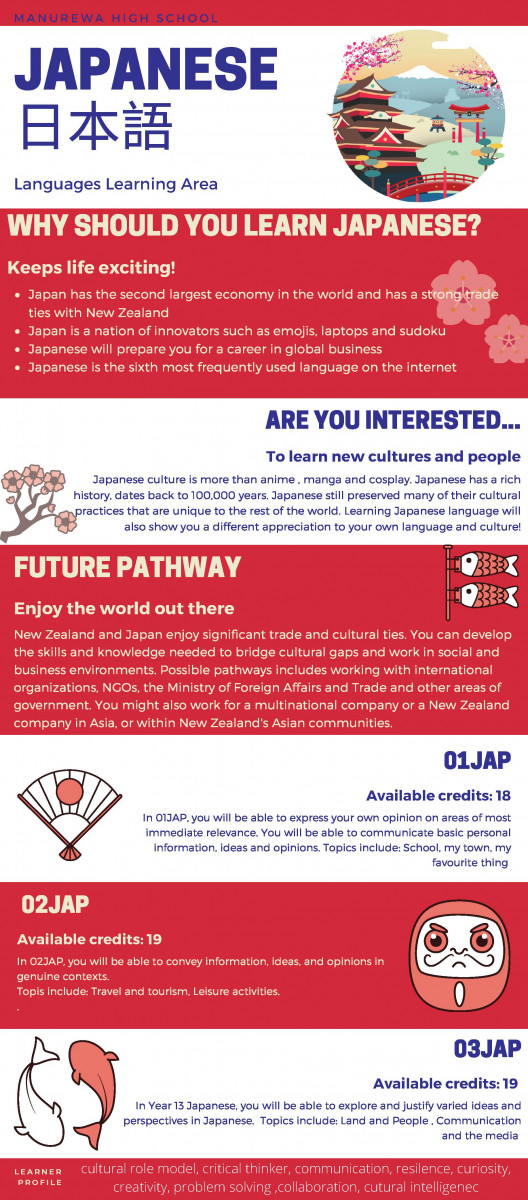 Japan continues to be one of our largest trading partners, achievement at this level leads to employment opportunities in tourism and business and/or further study at a tertiary level.

NCEA Level 2 Japanese broadens the base of cultural understanding and the language skills of listening, speaking, reading and writing. Students will be able to convey information, ideas and opinions in genuine contexts.

Students will have the opportunity to join the Short Term Exchange Trip to Japan. This includes a tour as well as a visit to our sister school, Takasaki Higashi High School.
Recommended Prior Learning
It is highly recommended that you already have the conversational language in both writing and speaking to ensure you get the best out of this course. This may have been achieved by speaking and communicating in Japanese with friends, using vocabulary from Japanese music and/or film or completing the Level 1 Japanese course.
If you are unsure if this course is for you, please see Mrs Sime or Mr White for support.
Contributions and Equipment/Stationery
1B8 Exercise book
BYOD
Pathway
Students who choose the Level 2 Japanese language could have the opportunity to take the Japanese Language further into Year 13 and tertiary studies. Career pathways for languages can consist of translator/interpreter roles, there are also opportunities for foreign language intelligence roles and language teachers.
Credit Information
Total Credits Available: 19 credits.
Externally Assessed Credits: 10 credits.
Internally Assessed Credits: 9 credits.

Assessment
Description
Level
Internal or
External
Credits
L1 Literacy Credits
UE Literacy Credits
Numeracy Credits
Japanese 2.1 - Demonstrate understanding of a variety of spoken Japanese texts on familiar matters

Level: 2
Internal or External: External
Credits: 5
Level 1 Literacy Credits: 0
University Entrance Literacy Credits: 0
Numeracy Credits: 0
Japanese 2.2 - Give a spoken presentation in Japanese that communicates information, ideas and opinions

Level: 2
Internal or External: Internal
Credits: 4
Level 1 Literacy Credits: 0
University Entrance Literacy Credits: 0
Numeracy Credits: 0
Japanese 2.4 - Demonstrate understanding of a variety of written and/or visual Japanese text(s) on familiar matters

Level: 2
Internal or External: External
Credits: 5
Level 1 Literacy Credits: 0
University Entrance Literacy Credits: 0
Numeracy Credits: 0
Japanese 2.5 - Write a variety of text types in Japanese to convey information, ideas, and opinions in genuine contexts

Level: 2
Internal or External: Internal
Credits: 5
Level 1 Literacy Credits: 0
University Entrance Literacy Credits: 0
Numeracy Credits: 0
Credit Summary
Total Credits: 19
Total Level 1 Literacy Credits: 0
Total University Entrance Literacy Credits: 0
Total Numeracy Credits: 0